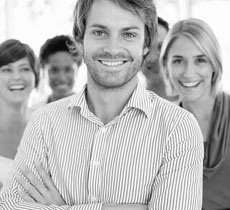 Formed in December of 2002, "Buzz" has always looked to offer a different approach to marketing products and services. By always going the extra mile for our clients, we have made a name for ourselves in the Boston market.
Buzz has always and continues to look to improve upon what we do best. While evolving into the marketing company we're proud of, one trait has stood out and remains consistent: our strong work ethic. Do right by the client and they'll continue to buy us. For the most part that's been the case. From our management team, to all who are employed by Buzz, to even those we work closely with, we cultivate a great work ethic.
Mission Statement
Our focus at Buzz is simple: "Connect the product / service with the consumer most apt to buy, through the most effective channels." We'll use our marketing strengths to help the client achieve their marketing goals, and point them in the right direction when Buzz is not the best fit for them.
Creative Thinking
It may seem insignificant, but everything stems from creative thought. From the creation of products, to concepts, to the way things are presented, creative thinking is the factor that starts the winning process. Capitalizing on that understanding, we like to look at solutions creatively prior to implementing anything.
Strategic Approach
To win the game you need to have a winning strategy. The right design and message, strategically placed on the correct platforms, targeted to the right audiences, all of it is strategized. When done correctly, ROI (return on investment) is almost certain.
Contact Us
Buzz is eager to hear about how we might help you reach your marketing goals. Please Contact Us today.